Winter sooner or later always comes, we want a warm sea and exotic, but Goa, as we know, is not an easy destination – there are many hotels, local exotics, sometimes also too much. So what hotels in Goa are worth paying attention to, so you will not be disappointed in your choice? We tell you about the new and best budget hotels.
Hotel Passions de Goa 3*
The hotel is located in Anjuna, 700 meters from the beach. Nearby is the most famous bakery in Anjuna – German Bakery. One of the features of the hotel is the presence of Russian-speaking staff, which is not often found in Goa.
Passions De Goa is ideal for fans of new hotels – this one was built in 2019, and everything there is brand new and fresh. The hotel offers accommodation in two room categories to choose from: Studio or 1Bedroom. No matter which category you choose, each room will have a kitchenette. An ideal option for those who care about their diet, prefer to cook on their own even on vacation or vacation with children. Especially when there are so many opportunities around to buy fresh seafood, vegetables and fruits.
Hotel rooms are very spacious and differ from each other only in size and the presence of a living room. The 1Bedroom category is 60 square meters and has two rooms separated from each other by a full door, a bedroom and a living room. It is ideal for holidays with children. The Studio category rooms are suitable for young people and couples: they have balcony, individual air conditioner, free Wi-Fi, ironing facilities, fridge, mini-bar with drinks, tea and coffee set. The hotel leaves small compliments for guests on the day of arrival. The balcony overlooks the picturesque Goan jungle and fields.
The hotel has a restaurant, gym, conference room, table tennis, billiards, darts, bicycle rental and yoga classes with a professional instructor. The hotel even has a children's menu for the youngest guests.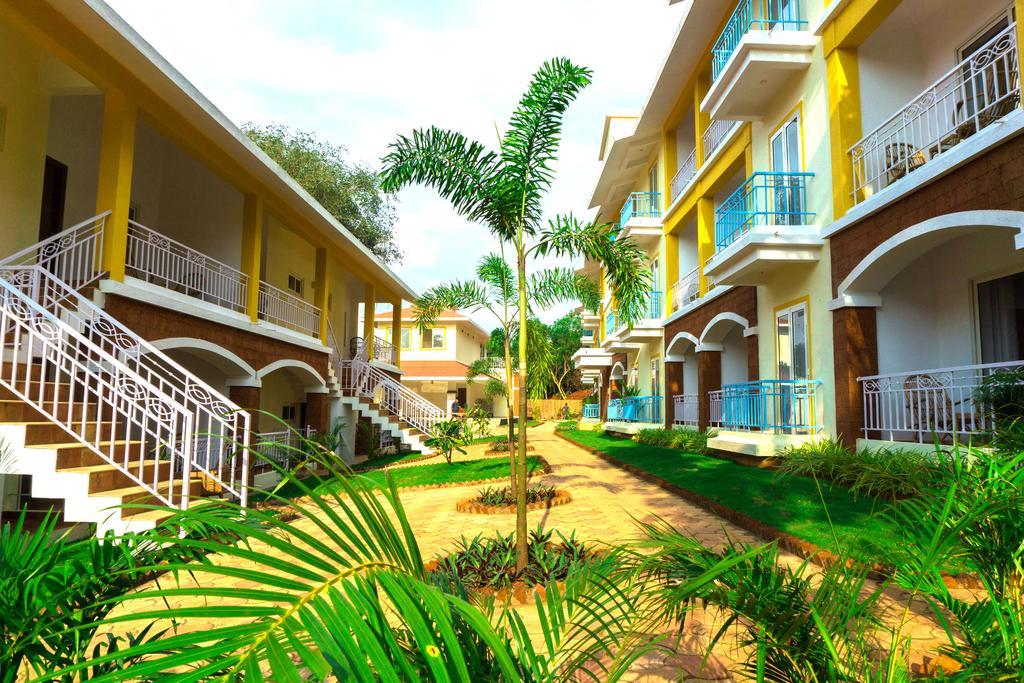 White Feather Hotel
A popular hotel in Morjim, located right on the main road and only 150 meters from the beach. The hotel has a very nice green area, and several buildings in which the rooms are located. Rooms are clean, comfortable, each has a balcony or terrace, safe, fridge, tea and coffee set.
The Super Deluxe rooms have a kitchenette. Near the hotel there are small supermarkets and souvenir shops.
A great choice for an active holiday for a couple or a company.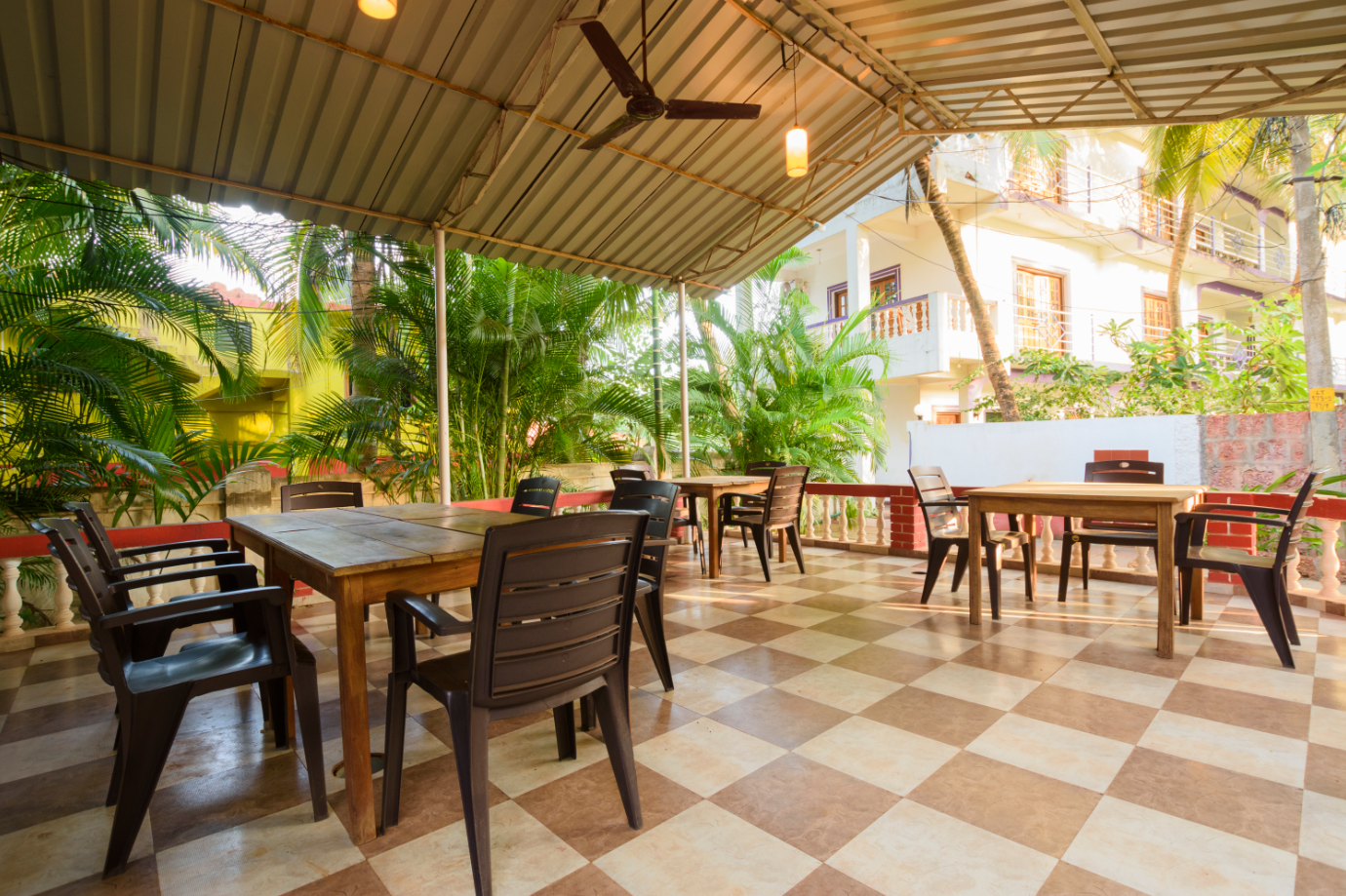 Hotel Green Pista 3*
The hotel opened its doors in mid-December 2019 after a complete renovation. It is located just 300 meters from Morjim Beach, which can rightly be classified as one of the top 10 beaches of Goa. Neat, clean, with huge panoramic windows throughout the wall rooms allow you to enjoy beautiful views of the palm groves around the hotel. Russian-speaking representative will provide any assistance to tourists. This hotel has the same general manager as the already favorite hotels of Oaisis Beach Resort and Hotel Sai Ganesh.
Since the hotel is new, its price for the first season of work can not help but please – one of the most affordable options.
Boomerang Resort 4*
Perhaps the most popular hotel in Ashwem, which gained its popularity because of its great location – the first line, and as soon as you get into the hotel, you immediately see the sea. Beautiful photos with beautiful scenery right from your hotel are guaranteed.
Free Wi-Fi is available in the restaurant area. The rooms are quite spacious – 36 square meters, up to three people can be comfortably accommodated there. Each room has a free refrigerator. In the evenings you can just relax on the balcony or terrace of your room, sipping cocktails made in the hotel bar. You don't have to worry about the safety of your belongings – every room has a safe (free).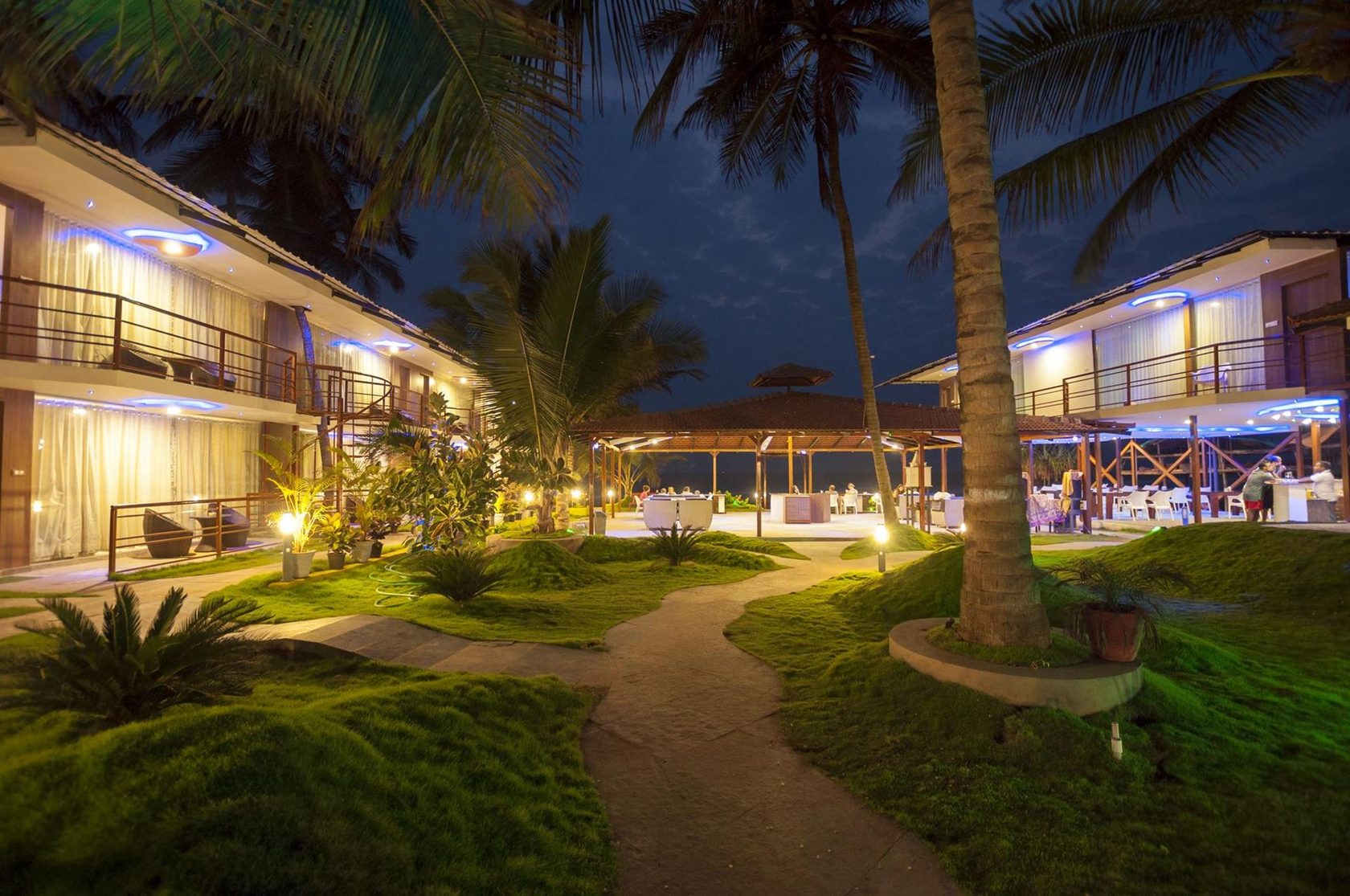 Bollywood Sea Queen 4*
Another hotel that pleases its guests with its location, as the beach is literally across the "gate" from the hotel. The hotel is located on the beach of Colva, where there is always a boiling life, developed infrastructure, a lot of tourists from all over the world, so you will not be bored. The hotel has a restaurant and a swimming pool. Each room has a balcony, large windows overlooking the garden or pool, refrigerator, kettle. Free Wi-Fi and a safe are available in the reception area.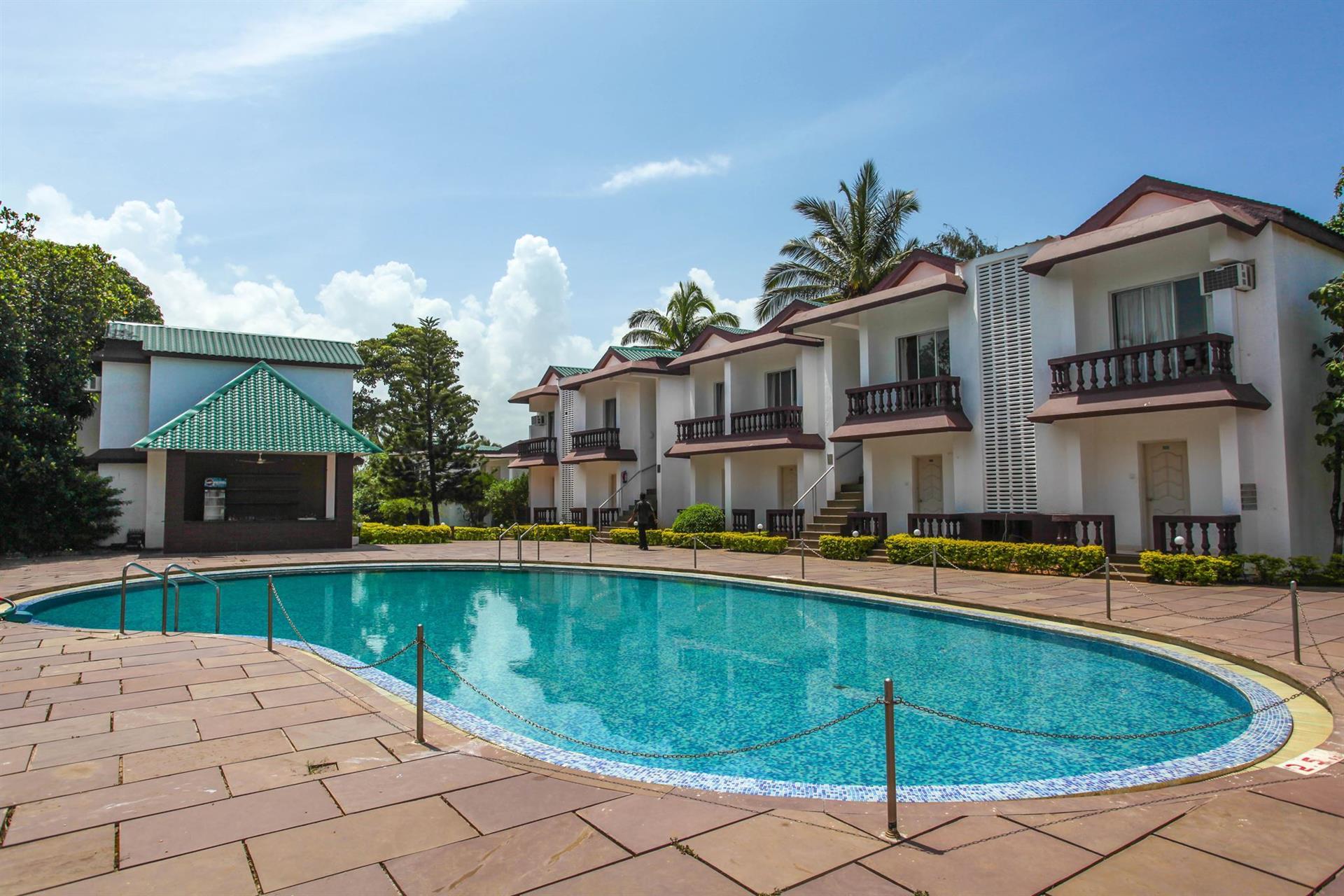 Okean de Goa 4*
Despite the fact that the hotel is located 1 km away from Vagator Beach, this does not prevent it from being very popular. The hotel has a free shuttle to the beach, so no discomfort to get a perfect tan.
The hotel has a pool, restaurant, fitness center, and conference room for 40 people. Vagator Beach is famous for attracting tourists who do not like crowded coastlines, prefer excellent service, want to bring something unique from their vacation and choose their surroundings carefully, so the hotels here are of quality and interesting design. Some rooms in the basic category have a balcony. All rooms have a safe, refrigerator, tea and coffee set, and bathrobes and slippers for guests' convenience.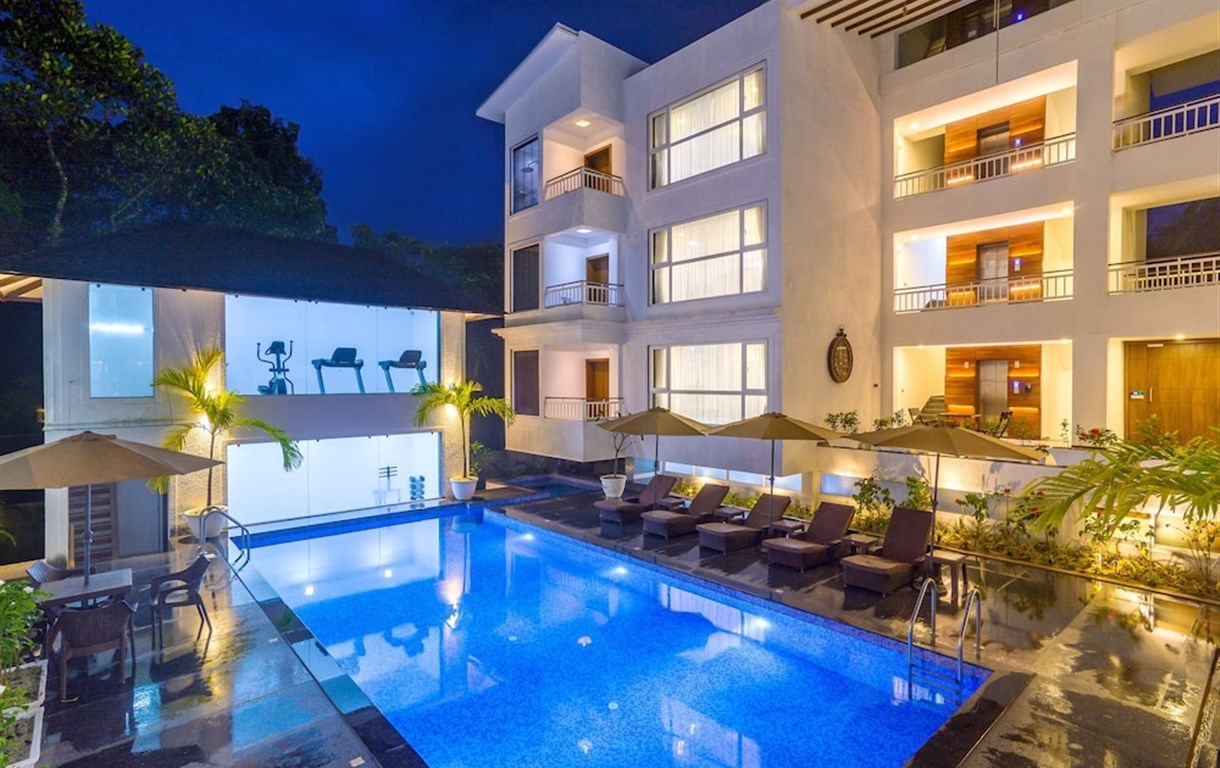 Postcard Cuelim 5* Luxury Boutique
Yes, this is not the most budget hotel in Goa. But if you're a discerning customer, don't bypass this restored 350-year-old mansion! With only 8 rooms, it's impossible to feel like you're just a guest. You will fall in love with this place, it will become a real home for you. Here like nowhere else you will get a taste of how the cream of Goan society lives and has lived. This luxury is not found anywhere near the beaches and the streets of Goa as we usually know them – the true luxury of Goa is carefully hidden from view behind the green jungle. This hotel is definitely for the elite, for whom luxury is an indispensable attribute of their normal lifestyle.
The hotel rooms are divided into 3 categories – DR. TB CUNHA SUITE, CUELIM SUITE and PREMIER ROOMS WITH PATIO. Each room category has its own distinctive feature.
PREMIER ROOMS WITH PATIO are charming rooms with a spacious patio overlooking 200 year old coconut palms and the lush Nossa Bela Casa garden.
CUELIM SUITE – The Cuelim Suites are located on the first floor of the hotel. They have stunning views of the green rice fields. The interiors are decorated with teak and marble ornaments. The original Baroque style in which these rooms are designed enchants you with the charm of the colonial era with a modern twist.
DR. TB CUNHA SUITE is the original room of the father of Goa's liberation movement, Dr. Tristao de Briganza. This is where you can feel a part of history. The room has a king-size bed, a spacious terrace overlooking the greenery of Cuelim village and the iconic Chapel of the Three Kings.
The grounds of the hotel resemble a royal garden with small terraces sheltered under the shade of palm trees and surrounded by beautiful exotic flowers. The spacious pool beckons for a refreshing dip.
The service provided by the Postcard Cuelim 5* Luxury Boutique is of the highest level, and its management team previously held high positions within the Oberoi chain.
Here you will have an opportunity to discover the miraculous effect of Punarnava Ayurveda. You will also be able to meditate and practice yoga against the magnificent scenery of the local nature. Exclusive classes with a professional instructor will fill your vacation with new sensations and useful knowledge.